So the news just said that Barack Obama just won the Iowa primary. Cool!

For weeks I've been struggling with my candidate support options. I almost wrote an entry here to fully support Obama, but I still struggled. At the time - about a month and a half ago - it was really between Hillary Clinton and Barack Obama. The true struggle? They are all happily outwardly Christian. Not that I will be able to vote for a winnable candidate who isn't, but I'm really tired of the christ-pandering. That said, they are at least progressive when compared to the repugnicans running for the executive seat.

So I didn't type out my endorsement. I still like Kucinich and Richardson. I think they are more honest and likely reliable and quite more likely to be less likely to pander to religious nutters. But those are traits that don't get people elected in today's U.S.A.. I also like John Edwards. In fact, I like him more than Hillary. Don't get me wrong, I'd happily support another Bill Clinton term (hehehe) but they are really part of the problem. She's just in too deep. Edwards may be a lawyer and likely wearing snake skin, but I seem to trust him. THAT said, we've GOT to admit, it's time to have a president who isn't from the South.

I'm not officially sticking my name behind anyone specifically right this second, but I'm very happy to see that Obama has taken a big step forward. He's the one I feel will actually make a CHANGE at the top - though frankly, would it even be possible to elect another fuck-tard like George W. Bush again? Well, we the evangelical xian movement continues to prove, you can't idiot proof politics as the idiots get better and better - and not in a good way. Huckabee... you seem like a nice person, but you're still a fucking wackjob lunatic like all the wack-job lunatics who you (used to) preach to.

And if this is any indication of who's running for the top job, then in all reality, we're all screwed no matter, since Gravel and Kucinich are the only two who are operating in what I would consider the most important quadrant. For the lazy, I've included just the graphical story.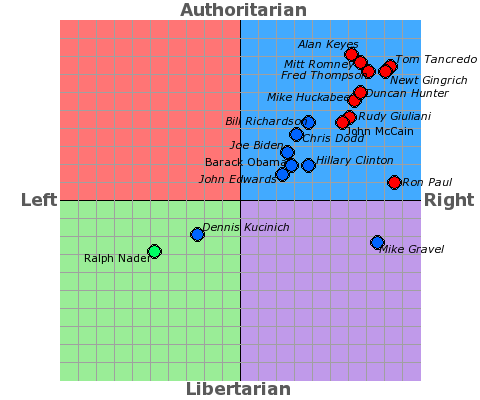 For the record, I'm much more left and a little more south of Gravel (L/R: -8.25, L/A: -3.79)